Screenshot comparisons…
Are you curious about a game that has appeared on more than one console and/or platform? Most entries involve TurboGrafx-16 (PC-Engine) vs. Super Nintendo (Super Famicom) vs. Genesis (Mega Drive), but comparisons to other platforms (arcade, NEOGEO, Amiga, PlayStation, Master System, etc.) are made when appropriate. (1) Thank you! (2) Disclaimer (read me).
GO DIRECTLY TO A GAME ▶ FIND the TITLE of the game you are looking for on the ▶MASTER LIST (80+ games available…)

BROWSE BY GENRE ▼




MASTER LIST (All 80+ games) ▼

NOTE: Click on the "(+)" to view the original discussion at pcenginefx.com. If you notice any errors, please contact us! Thank you. ▲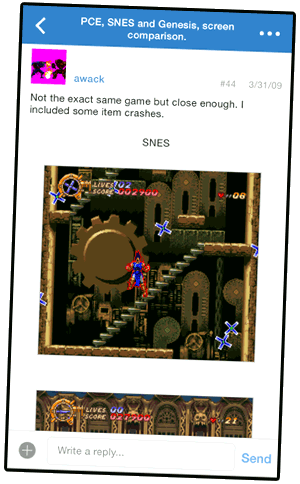 CREDIT: A great big Thank You! goes out to awack for starting this project years ago and contributing hundreds (over 1,500 in total!) of in-game screenshots. To see how this project evolved (and instigated many arguments) read the original "PCE, SNES and Genesis Screenshot Comparison" discussion at the pcenginefx.com forums. ▲
DISCLAIMER: These comparisons can help us appreciate the technical/artistic prowess (or lack thereof) exhibited in some games from yesteryear. Of course, screenshots alone cannot reveal a specific game's overall worth, nor should it be the sole criterion for determining the superiority/inferiority of a particular port. Indeed, many games look gorgeous in static screenshots, but suffer from choppy scrolling, poorly implemented controls, butchered music, missing content, etc.
In other words… Don't judge a game by its screenshot, you heathen.

▲
BRIEF HISTORY: On March 25, 2009, awack posted a handful of screenshots comparing PCE, Super Famicom and Mega Drive games. It didn't take long (six days and 44 posts, to be precise) before he presented the first batch of Dracula X (PCE vs. SFC) screenshots. This innocuous initial offering later ballooned into an exhausitive analysis of Konami's classic Castlevania titles for PCE (Dracula X: Rondo of Blood), Super Famicom (Dracula XX) and PlayStation (Symphony of the Night). Leaving no cartridge unturned, awack indulged his compulsions by thorougly documenting the sprite animations in these games, too. Relentlessly, awack plowed through game after game after game—capturing screenshots, isolating sprites, occasionally adding commentary about differences between ports—until he had exhausted the subset of games that PCE/TG-16 shared with Super Famicom and/or Mega Drive. Along the way, a handful of other folks contributed some screenshots, but awack single-handedly generated 99% of the content himself.
Three years after awack started his project, a handful of images had vanished from the thread. He uploaded the images, again. However, image hosting is notoriously fickle. If awack's work was not preserved, and swiftly, the PCE/TG-16 community would lose a valuable resource. Thus, this very page (@tg-16.com) was created in April of 2012. It would eventually contain more than 1,500 images. Without question, retaining 1,500+ images on a single page is imbecilic, inefficient and burdensome (especially for mobile devices)…but that stupid, unwieldy behemoth was not split into six smaller, more easily-digestible pages until November of 2014. Thirty-one months late, I reckon. ▲
This page is a WORK IN PROGRESS… ▲
For the most up-to-date info, please consult the original "PCE, SNES and Genesis Screen Comparison" discussion at the pcenginefx.com forums. Thank you for visiting!