HOMEBREW: Atlantean (Aetherbyte) & HyperNova Blast (MindRec)…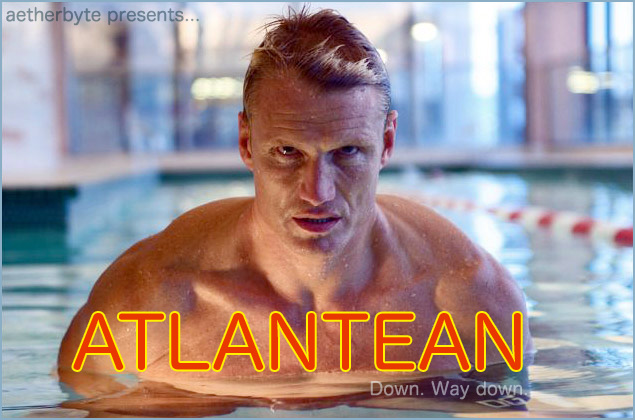 ¡ATLANTEAN! — The first HuCARD produced by indie developers, Atlantean (AbCARD) is truly a marvel. SUPPORT INDIE DEVELOPERS! Purchase Atlantean from Aetherbyte immediately, comrade!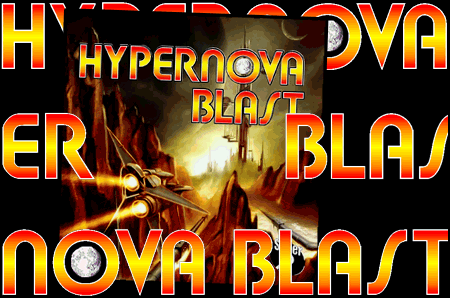 ¡HYPERNOVABLAST! — Not to be outdone, MindRec is back (after a ten year hiatus) with HyperNova Blast (Super CD•ROM2) featuring an utterly divine soundtrack. SUPPORT INDIE DEVELOPERS! Purchase HyperNova Blast today, my friend.

Download Reflectron now…
¡PELIGRO! ¡PELIGRO! — Reflectron is a simple, addictive arcade style high-score action game which is free to download and play on a PC Engine emulator of your choice (such as Magic Engine, Mednafen or Ootake) or flash card. Of course, I encourage you to explore all of the intriguing projects brewing at Aetherbyte and support the homebrew community by purchasing a game (or two)!

Pyramid Plunder available…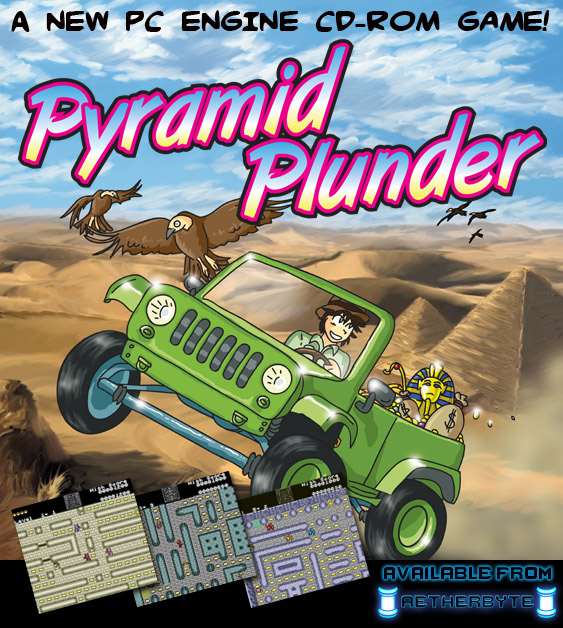 ACHTUNG! ACHTUNG! — It is a glorious time for PCE fans. Following the release of the fantastic Mysterious Song (see below), we have another game to play on our TG-16/PCE hardware! Support the TG-16/PCE homebrew community! Purchase Pyramid Plunder (SCD) today! Seriously. If you want to see future indie developement for the PCE, show Aetherbyte (and Frozen Utopia, below) some love. Visit the Pyramid Plunder Information Booth for more information. BUY IT NOW, YOU MISANTHROPE!

Mysterious Song available…
ATTENZIONE! ATTENZIONE! — PCE fans of the world, unite! A new game has arrived to satiate your lust for PCE, comrades. Support the TG-16/PCE homebrew community! Purchase Mysterious Song (CD-ROM) today! It's been a few years in the making (by the team at Frozen Utopia), and it was worth the wait! The soundtrack alone is worth the price of admission, but there are many hidden goodies packed into this release as well. Visit the Mysterious Song Site for more information. BUY IT NOW, YOU PUSSYFOOTER!

Pre-order PC Engine Gamer PRINT EDITION now…
AVERTISSEMENT! — Paul is now taking pre-orders for a print edition of PC Engine Gamer fanzine! For those of you following the story, you know that Paul was worried about the costs involved with a printed edition. Some folks like easter eggs, so—BONUS VIDEO—there you go. I suggest you pre-order now before he changes his mind! Explore Paul's ever-growing PC Engine Software Bible, for more PCE goodies.

Finally! New scans…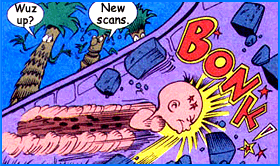 10.12.12 — View the newest page scans added to the TurboPlay Magazine Archives (includes direct links to the new TG-16 magazine scans + running commentary). What's new? The TurboPlay Magazine Archives are finally getting new content because fellow Turbo fans (thank you henrycsc, bernie, akamichi, SuperPlay, jelloslug!) have scanned (collectively) hundreds of pages and resussitated a long-dormant site. I will be processing and uploading the new content every few days. If I get through all of henryscs's scans in a timely manner (he uploaded his scans a year ago!), then I will process an additional 450+ scans of my own that have been sitting on my laptop's harddrive for the past 5+ years (I spent a lot of time scanning my magazines, but, until now, lacked the enthusiasm to finish the project). More than 450 scans withering away on an ancient laptop for more than five years. The shame. The shame. The good news is that searching the magazine database will produce increasingly robust results as the new content is added.

1993 EGM Buyer's Guide…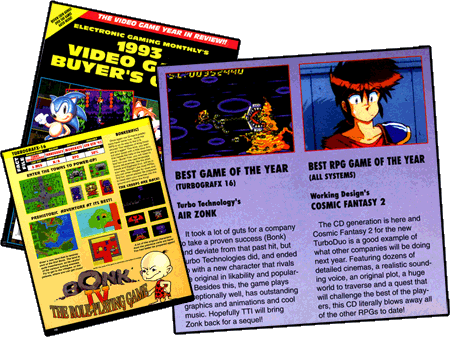 04.02.12 — EGM's 1993 Video Game Buyer's Guide (.pdf). See which TG-16 titles earned some respect from EGM editors (hint: Cosmic Fantasy 2, Air Zonk, Gate of Thunder, etc.). Also, inspect the enigmatic (and unreleased) Bonk RPG as well as the interesting category created for Dragon Knight 2 (PCE). The most interesting category? Well, that would have to be the "BEST VIDEO GAME RUMOR" (Street Fighter II as a CD-ROM for TG-CD and Sega CD! Imagine the loading times!) You might also enjoy the prescient article entitled "CDs—The Future of Video Gaming" amongst other TG-16 goodies.

Mysterious Chiptune…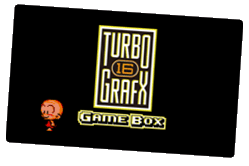 03.20.12 — Mysterious chiptune… Listen to the MYSTERY chiptune that is featured on the title screen (and main menu) of Hudson's GameBox for iOS (right-click to save .mp3). It's a damn catchy tune that sounds like it is ripped from an existing PCE/TG-16 game...but I can't figure out what title (if any) the song originates from. What are the chances that Hudson commissioned (created) a new chiptune for the GameBox emulator? If you can identify the tune, or provide any info on its creation, please contact us! Special Thanks! to farankoshan for providing the .mp3!

PCE Shoot-em-ups: Arcade Mode…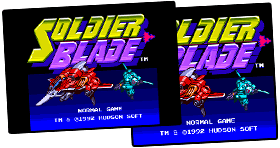 03.11.11 — The High-Resolution "Arcade Mode" beckons you, especially if you are a fan of old-skool shoot-em-ups (shmups). Sadly, only a small percentage of PC-Engine/TurboGrafx-16 games provide the option to "squeeze" the screen in an attempt to mimic vertical shoot-em-ups from the arcade. Also, for 3-4 games, be prepared to enter some truly sadistic codes simply to gain access to the "Arcade Mode" option. Why were the developers so cruel?
Mighty-16 Party…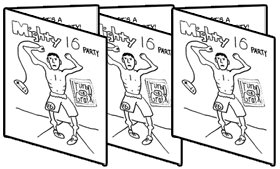 01.31.11 — My Mighty-16 Party. I did not have the courage to share this last year. Wipe the smirk off your face as you read about My Mighty-16 Party. I suppose I had something to lose last year. Now, however, I have nothing to lose.

Bonkinator: Cyborg Punk…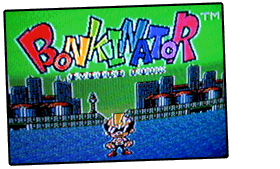 01.26.11 — Would it surprise you to learn that Air Zonk could have been released as Bonkinator: Punk Cyborg? At least Bonkinator sounds better than Bonk's Thunder Shooting, the game title initially listed by North American publications.
Also, you are invited to help document all of the three-button-friendly games for TG-16 and PCE. Dig out your Avenue Pad 3 and have a party!

1.11.11 — The January 1993 issue of Electronic Games was inspiring. What better way to celebrate the dawn of a new year than with Zonk's New Year Wallpaper to adorn your electronic devices? I raise my glass to you, Link! Er, Knuckles! Er, Leisure Suit Larry?


STANDARD: 1024x768, 1152x864, 1280x960, 1280x1024, 1400x1050, 1600x1200.
WIDESCREEN: 1280x800, 1440x900, 1680x1050, 1920x1080, 1920x1200, 2560x1600.
MISCELLANEOUS: 1280x854 (PowerBook G4).
12.27.10 — Lady Sword (1992, HuCard, PCE) has a decent soundtrack. It has held up to countless listenings as I have been shoveling snow from today's blizzard off my never-ending driveway. My hair has clumped into icicles and my toes are numb, but Lady Sword's tunes have warmed my heart. Not bad for an "unofficial" release. NOTE: The opening of track 6 is uncannily reminiscent of the main tune from Bloody Wolf (Narazumo no Sentou Butai Bloody Wolf), but then it segues into a very catchy (but all-too-short) sequence that might as well have been an outtake from Legendary Axe II (Ankoko Densetsu). Disjointed? Sure, but I love it.
12.09.10 — Blazing Lazers (GunHed) has some damn fine chiptunes. Here I am, more than two decades after first obsessing over this stalwart shoot-em-up, and I still love Blazing Lazers (and its soundtrack). Of course, the only way to play the game these days is on the most challenging difficulty level. Truly, truly invigorating.
11.16.10 — Splatterhouse is coming to the iPhone (iOS) soon, so I need to make some new wallpaper to commemorate the occasion. Odd that Namco failed to release this a month sooner to capitalize on All Hallows' Eve (Halloween).
07.05.10 — Nothing to report, except that there are 40% more hearts in the image at the top of your screen. Go listen to the soundtrack to Lady Phantom (1991, CD, Japan) and tell me it doesn't have a few nice moments. Go ahead.
Trivia…
There is at least one hidden message on this page.

See if you can find it, contact me, and I will congratulate you.
Old stuff…
12.27.09 — Happy Holidaze! Have some holiday fun over at the pcenginefx.com forums. See if you can answer the trivia questions without cheating!

10.25.09 — Despite two decades of ridicule, TurboBooster + TG-16 are unappreciated sex symbols. Enjoy!

08.31.09 — Celebrate the 20th anniversary with Monster Lair Wallpaper (Standard, Widescreen and iPhone) and titilate your ears with Monster Lair Soundtrack (Red Book).

03.03.09 — Enjoy the new Keith Courage Wallpaper (iPhone), featuring your favorite agents of B.A.D.: Zakko, Big Face, Long Bones, Kitty, Devil Foot, etc. 16 designs total. Don't miss the scoop on Mr. Roboto, either.

02.13.09 — What better way to celebrate today, Friday the 13th, than with TurboGrafx-16 Splatterhouse Wallpaper (standard desktop, widescreen, iPhone). If you want to learn more about Splatterhouse, check out the suggested readings, too.

01.31.09 — Happy New Year! We have some goodies for you as you settle into 2009: Bonk's Revenge Wallpaper (iPhone / iPod Touch) and some pages scanned from Electronic Games (January 1993). You will find neon spandex gloves emblazoned with the TG-16 logo in this issue of EG. And yes, those fingerless gloves did make great stocking stuffers...

10.05.08 — Time flies… Already autumn, yet the Magazine Archives haven't been updated since spring. You can view these feature articles if you missed them. Or perhaps you would rather print your own Bonk for Prez bumpersticker? Otherwise, the only thing you might have missed is this basic list of dedicated TG-16 publications. A few thumbnails have yet to be added to this list…

03.08.08 — 16 years ago… March 1992, in TG-16 History. Read an old issue of EGM to find out about Tengai Makyo II (Far East of Eden II), Tatsujin, Parodius, Valis and Exile for Genesis, Gate of Thunder, etc.

03.08.07 — A new look (let's call it "cathode ray") for this old site! Bonk's image was copied from PC-Genjin art over at Hudson's Japanese .

08.13.05 — Finally! A real home @ tg-16.com. Say goodbye to ridiculous URL's like this, this, this and this.